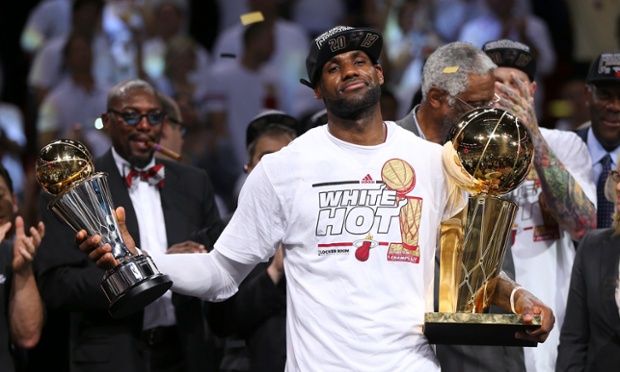 This above all: To thine own self be true.
There was a moment last night when LeBron James was handed the 2013 NBA Finals Most Valuable Player award. He outstretched is arms, closed his eyes, and let the cheers and ovation finally soak in. Yes, at long last, the King felt comfortable in his crown.
James led the Miami Heat to their 2nd consecutive NBA Championship last night, defeating the San Antonio Spurs 95 – 88.
Miami won the best of seven series, 4 -3, in what will long be remembered as one of the NBA's greatest Finals. James' performance was unmatched. He led both teams in scoring with 37 points. He led his team with 14 rebounds and his 4 assists were tied for a team high.
The strongest people are those who find comfort in their own skin. They are self assured and most ready for success. They cannot be shaken. Fitting that, for the kid destined to be King, he would have the mightiest climb to find true satisfaction. And in the end, for LeBron James, that satisfaction was found by accepting himself.
His game was everything the moment demanded. He shot 52% from the field, 50% from 3-point distance and was a perfect 8-8 from the free throw line. And true to himself, he trusted his teammates to do their part. It will be noted in the NBA history books as near perfect Game 7 performance.
The road to this feeling wasn't easy. Last year, after James had won his first NBA Championship, he was asked how it felt and his first words were "It's about damn time."
For as molded, scolded and scrutinized as James has been since he was 17 years old and deemed the 'Chosen One' on a magazine cover, he has always had his moments where he exposes his true self and how he really feels to the world.
The moments come in small doses, almost like tiny leaks in an otherwise perfectly constructed dam.  Before last night, they were the little things, like biting his nails in big moments, or using a silly, cartoonish phrase to answer a question about his free agency. They were the signs of uncertainty. For so long, there was so much given to LeBron James and so much expected, yet so little of it, felt earned.
The answer he gave last year was about as true and pure as child. He was relieved. He had finally done what everyone had been saying he should do. He won a title with his constructed team of super friends. But something didn't feel right. He and the Heat had won, sure, but not the way everyone, including James imagined it. Last year the League was full of turnover and adjustment. The result was the youngest average age of the starting line-ups in NBA Finals history.
This year, the league was ready, and if James and the Heat were to repeat, it would be earned.
During the 2012-2103 NBA season James firmly established himself as the best player in the world. He and he alone had the power to pull his team through at 27-game winning streak. His season averages of 27 points, 8 rebounds and 7 assists per game earned him his 4th Most Valuable Player award. And when the season was on the line, it was James who proved each time as he rose up to hit mid-range jumper after mid-range jumper that he would have no weakness in the clutch.
Ah, yes, when Kingdom come, he was ready.
As the final buzzer sounded inside the arena, there was as much celebration as there was admiration. The Spurs had pushed Miami and James in a way that they had never been pushed. One of the greatest organizations, with one of the greatest core group of players and one of the greatest coaches had challenged the game's greatest player like no others had.
So often, after a champion is crowned in sports, it feels obligatory to acknowledge the other team. Not last night. The cheers of respect from the Miami crowd were honest and deserved for the Spurs. They helped raise the game of basketball with their unselfish play, their professionalism and most importantly with their 'team is everything' concept. That was why the feeling was so fulfilling for LeBron James as he bathed in bright lights that shown down on that Championship platform.
He had done it. He had won. He had beaten the best. And he had done it his way.
His talent is the total of the team talent of the Spurs. He can play every position on the floor, something he demonstrated throughout the series. He showed it by  guarding Spurs point guard Tony Parker as effectively as he was able to block Spurs center Tiago Splitter at the rim. LeBron James was everywhere and did every single thing in these Finals.
He was able to call his own number as easily as he was able to defer to and help his teammate Dwyane Wade get himself going. He remained steadfast in his belief of his teammates, finding them open beyond the arc and underneath the rim.
So of course, in the deciding game of his career, James would trust Wade and have faith in veteran Shane Battier.
Battier, who had gone through one of the worst shooting slumps of his career during these playoffs and had struggled so much that he recorded his first ever DNP-Coaches Decision, in Miami's last Game 7 vs Indiana.
In both instances, James was rewarded. Wade finished the game with 23 points and 10 rebounds. Battier made 6 three-pointers en route to 18 points. Finally, LeBron James embraced the idea of "to thine own self be true" and through the most epic of battles, he was forged a champion.
As the confetti continued to pour down from the rafters, James was again asked a familiar question. He was asked how he was able to perform under all the pressure and the scrutiny and the judgments he's had to deal with on a daily basis, in every aspect of his life, for so, so long.
James took a deep breath and one more time showed his true self to the world.
"I'm LeBron James, from Akron, Ohio." James said.
As the crowd roared, James smiled and did as we all do when we don't have our own words to express how we feel–he borrowed the words of a well-known writer of his time.
It surely wasn't Shakespeare, but it was five words that couldn't be any closer to the truth.
For the first time in forever, LeBron James can look himself in the face, and truly know, "I ain't got no worries."
Scott Christopher is a guest writer for Next Impulse Sports. Follow him @ScottC247