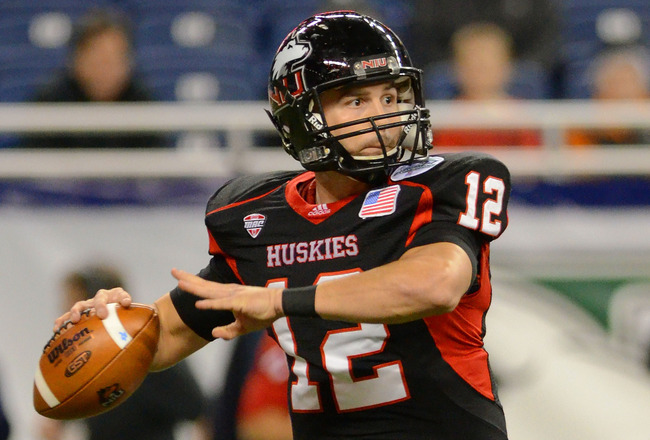 When the Colts selected Northern Illinois quarterback Chandler Harnish with the 253rd and final pick in the 2012 NFL draft, they forever catapulted him into the most esteemed annals of football history.  Chandler Harnish is no longer just another small-time conference QB with two last names.  He is Mr. Irrelevant.
I'd be lying if I told you I watched ten seconds of NIU football this season, so if you're expecting analysis of Harnish's NFL future, you're in the wrong place.  If that's what you want, email Mel Kiper Jr. and hope he's not too busy with 2013 mock drafts or bitch-slapping Todd McShay to reply.
The Mr. Irrelevant thing is a pretty sweet gig, as it turns out.  For starters, Chandler Harnish will be the proud recipient of the Lowsman Trophy, the greatest trophy in all of sports.  Harnish will follow the steps of every Mr. Irrelevant since 1976 as he and his family head to Newport Beach, CA for the ingeniously named celebration that is Irrelevant Week.
At Irrelevant Week, Harnish will be showered in gifts, fed free food, taken to Disneyland, Comedy Central-style roasted, and race a yacht (!!), in that order.  All of this awesome madness was started in 1976 by Paul Salata, who's described by Irrelevant Week's website as "a former USC football standout and fan of the underdog," which definitely sounds better than "possibly psychotic old dude who would be fun to get drunk with."
The list of former Mr. Irrelevants is full of current NFL players I've never heard of, former NFL players I've never heard of, dead guys, and a guy who I'm fairly sure is the Chiefs' kicker.  Harnish is a developmental QB, so the possibility that he develops into nothing impressive is strong.  If he hangs around for a handful of years, cashes a few checks as a backup, and throws a touchdown or two, he'll fit in nicely among his Irrelevant brethren.  Barring a Tom Brady-like rise to stardom, he'll look back on Irrelevant week as the most memorable of his life, and why not?  They're letting him race a fucking yacht, for free.